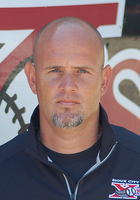 Shane M Tritz
VP/General Manager
Phone:
(712) 277-9467
E-mail:
The 2018 season will mark Shane's 20th season in professional baseball and 13th season as the General Manager of the Sioux City Explorers . In 2013, Shane was honored as the league's (American Association) Executive of the Year and this was the first time a member of the Sioux City Explorers front office staff received this honor in the team's 22 seasons.
He returned to the Sioux City Explorers to serve as the team's General Manager in 2006 after spending the previous three seasons (two as General Manager) in south Texas with the Coastal Bend Aviators of the Central Baseball League. Shane also worked three seasons in the Explorers front office (1999, 2001 and 2002) and one season with the Kansas City Royals AAA affiliate in Omaha, NE (2000).
The Explorers General Manager is originally from Sioux City, IA and is a 1995 graduate of Sioux City West High School. Shane attended the University of Iowa where he earned his degree in Sports Management in 1999. Shane and his wife, Holly, reside in the Siouxland area along with daughters Morgan (16) and Peyton (12).
He is involved in a number of charitable and community organizations in the Sioux City area, including the following boards: North Sioux CIty Recreation Board,and serves as the President for the Dakota Valley Girls Purple Panther Athletics board.
Nickname: Agassi
Hometown: Sioux City, IA
X's Debut: 1999 (Intern)
Favorite Sport: Baseball and Fishing
Favorite non-X's Sports Team: Iowa Hawkeyes, New York Yankees, Denver Broncos, Kansas City Royals
Favorite Athlete: George Brett & John Elway
Favorite Food: Grilled Cheese & Mac N Cheese
Favorite TV Show: American Pickers
First Job: HyVee Food Stores
Guilty Pleasures: Funyuns and Mountain Dew
Hobbies/Interests: Fishing, and attending sporting events I do not have to work at