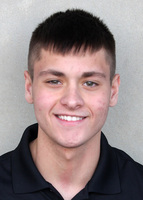 Michael Moos
Media Relations Assistant
Phone:
712-277-9467
E-mail:
Michael Moos will enter his 4rd year with the Explorers and second year as media relations assistant during the 2016 season. He spent his first two seasons as the producer for the X's radio broadcasts on 1360 KSCJ.
This life-long Sioux City resident and West High graduate is a full-time student earning his Audio Engineering degree who also works for Powell Broadcasting as a producer for most high-school/college football and basketball broadcasts. In addition to producing, he also DJ's on KSUX and fills in on Q102.
Michael has the privilege of learning behind Justin Barker, Powell's Sports/KSCJ Program Director, in sports play-by-play coverage. Moos, was a producer for Super Sports Tonight as well as a contributor to the NAIA network for the Division II Women's National Championship. Michael is energized and excited for the 2015 season of Explorer's baseball and continuing his sports media endeavors.