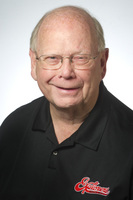 Dave Nitz
Director of Broadcasting
Phone:
(712) 277-9467
E-mail:
The 2016 season will mark Dave's eight season as the "Voice of the Explorers" and his 35th year broadcasting minor league baseball. Over his baseball-broadcasting career he has been the voice of the Bluefield Orioles (Appalachian League) for three years, Oklahoma City 89ers (AAA-American Association) for three years, Shreveport Captains (AA-Texas League) for 14 years, Baton Rouge Blue Marlins (Independent-All American League) for one year and spent six years with the Shreveport Sports (Independent-Central League & American Association) prior to joining Sioux City in 2009.
In addition to serving as the play-by-play broadcaster of the X's, Nitz is in his 41st year as the play-by-play voice of Louisiana Tech in football, basketball and baseball having broadcast nearly 2,500 games for the Bulldogs. With Louisiana Tech, he also served as the Assistant Media Relations Director and advisor for the campus radio station (KLPI) for 15 years.
In 2010, Dave was inducted into the Louisiana Tech Athletic Hall of Fame that includes NFL Hall of Fame quarterback Terry Bradshaw, two-time NBA MVP Karl Malone, former major league pitcher George Stone and Paul Millsap, NBA standout with the Atlanta Hawks.
Dave received the honor as the Louisiana Sportscaster of the year by the National Sportswriters and Sportscasters Association in 2009. Dave has also been named the top play-by-play sportscaster in Louisiana two of the last three years.
Dave is a native of West Virginia and he and his wife of over 50 years make their home in Haughton, Louisiana. They have three children, six grandchildren and one great-grandchild.