08/08/2011 10:45 PM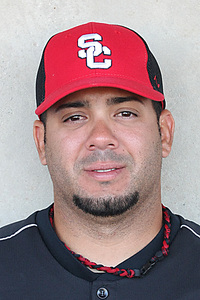 Sioux City-----Three Explorers pitchers combined on a 3-0 shutout over Gary Southshore here Monday in the first game of a four-game series against the first place RailCats.
Starter Richard Salazar went 7.1 innings, Eddy Delacruz pitched two-thirds of an inning and Emiliano Fruto closed the game with a perfect ninth inning in hurling only the second shutout of the season for the Explorers. This was a nine-inning shutout where the first shutout was a seven inning first game of a doubleheader on May 22nd against Fort Worth. The Explorers got the only run they needed in the second inning when Ryan Priddy singled home T.J. Bohn to give the X's a 1-0 lead. Wally Backman, Jr., drove in the other two runs, the first in the fourth inning and the second in the sixth with singles.
The three Explorers did not walk a batter in the nine innings as Sioux City, still in third place, moved to within seven games of first place Gary Southshore in the Central Division.
The second game of the four-game series at Lewis and Clark Park will be Tuesday starting at 7:05. Groups of 20 or more qualify for discounted tickets by calling 712-277-9467!
|
Back to index...