12/20/2011 4:18 PM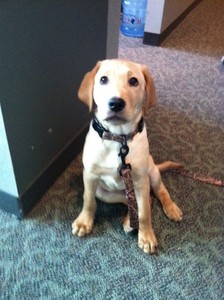 SIOUX CITY, IA - "Stoney", the newest member of the X's front office staff stopped by the office today for a visit.
"Stoney", a yellow Labrador puppy joined the X's staff on December 10th when the X's purchased "Stoney" in the 76th annual Little Yellow Dog Auction. Proceeds from the auction and other fundraising efforts benefit the Mr. Goodfellow Charities, which gives books and presents to under privileged children each Christmas season.
Stayed tuned to www.xsbaseball.com for 2012 player signings, promotional announcements and everything in between.
The 2012 Home opener is set for Saturday, May 19th, 2012 when the X's welcome the Fighting Pheasants of Sioux Falls to Lewis & Clark Park.
Reserve your 2012 Season Tickets now by calling 712-277-WINS (9467).
|
Back to index...