03/15/2012 8:53 AM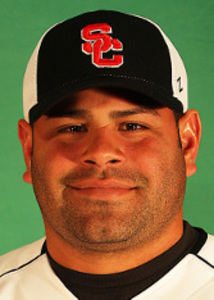 SIOUX CITY, IA - The Sioux City Explorers will have a familiar face calling the pitches for the 2012 season, season number 20 in Siouxland. The X's have announced today the signing of veteran catcher, Ray Serrano.
The 2012 season will be the Ponce, Puerto Rico native's third season with the Explorers. In 2011, Serrano led the team with 115 hits, 28 doubles, 12 home runs and 67 runs batted in, while posting a .320 batting average over 95 games. Over the past two years with the X's, the veteran backstop has put together a line of impressive numbers. Appearing in 183 games wearing an X's uniform, Serrano has compiled a .334 batting average in 703 at bats, while accumulating 235 hits, 133 runs batted in, 62 doubles and 18 home runs. His efforts have placed him among Sioux City's all-time leaders in various offensive categories including third in career batting average, seventh in doubles and tenth in runs batted in. In 2010, Serrano represented the Explorers in the American Association All-Star Game.
"I am excited to have our veteran leader coming back this season, Ray is a solid catcher that also is a great offensive force in the middle of our lineup," comments field manager Stan Cliburn.
Serrano spent nine seasons in the Atlanta Braves system with four straight seasons at the AA and AAA level. As a member of the Braves AA affiliate in Jackson, MS in 2005-2007, Serrano put together a .267 batting average while maintaining a .990 fielding percentage, as a catcher.
Serrano is X's Field Manager Stan Cliburn's third signing of the 2012 season. He will join 2011 teammates Nick Schumacher and Richard Salazar, a strong core group of players returning to Sioux City in chase of an American Association Championship.
The Explorers will kick off season number 20 on May 17, 2012 in Sioux Falls, SD versus the Fighting Pheasants, for a split series against their I-29 rivals. The X's 2012 Home Opener will be Saturday, May 19 versus the Pheasants in a 7:05pm contest with Great Southern Bank Magnet Schedule Giveaway and Lantis Fireworks post-game fireworks. Season tickets are on sale now. Call 277-WINS or stop by the off-season office (600 Stevens Port Dr. #112, Dakota Dunes, SD) to reserve your seats today!
|
Back to index...