03/29/2012 12:29 PM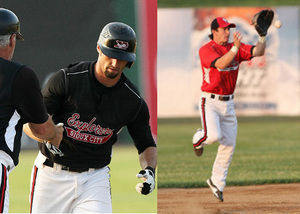 SIOUX CITY, IA. – With nearly one month to go before players report to camp, the Sioux City Explorers are beginning to fill out their roster. Today, the X's have solidified their middle infield by signing 2011 holdovers, shortstop Ryan Priddy and second baseman Mike Murphy. Both re-join teammate Wally Backman, Jr. in the X's infield.
The 2012 season will mark Priddy's seventh year in professional baseball. The 29-year-old, Loveland, CO native was a solid bat for the X's in 2011. Appearing in 95 games, Priddy produced 107 hits, tallying 23 doubles, four triples and seven home runs. Sporting a .291 average, he drove in 55 runs while crossing the plate 58 times himself.
"We are pleased to have our shortstop back to lead the Explorers in 2012," commented X's Field Manager, Stan Cliburn on Priddy's return. "His offensive production was huge last year and along with his defensive capability, he can prove big success for the team in 2012."
Covering the other side of the infield for the X's will be second baseman, Mike Murphy. The 2012 season will mark Murphy's third season in professional baseball and second in a Sioux City uniform. Prior to his time with the Explorers, Murphy was a member of the Laredo Broncos.
In 2011, the Arizona State University product appeared in 51 games for the Explorers. Murphy posted a strong .301 batting average in 153 at-bats, with 46 hits, 8 doubles and 17 runs batted in. Not only did the 24-year-old, Templeton, CA native offensively help the X's in 2011, he was a solid fixture in the field with only 2 fielding errors on the season.
"We are excited about having the little spark plug back at second base for the Explorers in 2012," mentioned Cliburn on his infielder, who stands at 5'11". "He brings energy to the team at all times!"
The Explorers will kick off their 20th season on May 17, 2012 in Sioux Falls, SD versus the Fighting Pheasants, for a split series against their I-29 rivals. The X's 2012 Home Opener will be Saturday, May 19th versus the Pheasants in a 7:05pm contest with Great Southern Bank Magnet Schedule Giveaway and Lantis Fireworks post-game fireworks. Season tickets are on sale now. Call 277-WINS or stop by the off-season office (600 Stevens Port Dr. #112, Dakota Dunes, SD) to reserve your seats today!
|
Back to index...