05/19/2012 8:05 PM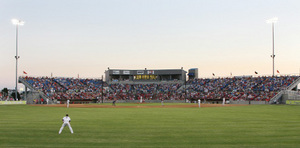 The Sioux City Explorers home opener has been suspended due to rain. The game will be resume on June 11, 2012 when the Pheasants return to Lewis & Clark Park.
The 2012 opener was in the bottom of the third inning with Ray Serrano on 2nd and Adrian Martinez on 1st with no outs and Kris Sanchez up to the plate when the game was called. The X's were up 5-0.
This game will be completed on June 11th and will be picked up where it left off and played through nine innings followed by a 7 innings contest with 30 minutes in between each contest.
Paid tickets to Opening Night can be exchanged at the Lewis & Clark Park Box Office for any remaining regular season home game during the 2012 season. Fireworks will be reschedule for Saturday, June 2nd.
The X's Box Office will be open at 8:00am on Monday, May 21st.
|
Back to index...