01/29/2016 12:58 PM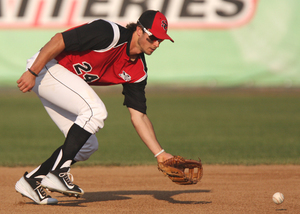 SIOUX CITY, IA – The Sioux City Explorers announced today that they have re-signed INF Ryan Court to a 2016 American Association contract. The upcoming season will be Court's 6th season in professional baseball and 2nd season as a member of the X's.
Court was drafted by the Arizona Diamondbacks in the 23rd round of the 2011 MLB June Amateur Draft from Illinois State University. In his first season in Sioux City in 2015, the Sleepy Hollow, IL resident appeared in 99 games and posted an impressive .331 batting average, which was good for 12th best in the American Association and 3rd highest on the team. Court racked up the league's 7th most hits with 122 to go along with 22 doubles and 9 homeruns while collecting 52 RBI's and scoring 65 runs for the X's. For his efforts, Court was named to the 2015 postseason American Association All-Star Team.
"Ryan was one of our main priorities to re-sign for this upcoming season," commented X's field manager Steve Montgomery. "He was a leader for us offensively as the numbers speak for them self. Hopefully he doesn't miss a beat and has a productive 2016 season."
Court began his professional career in 2011, where he played for the Diamondbacks Pioneer League team in Missoula, MT where he appeared in 70 games. For the year, he hit .271 while collecting 14 doubles, 7 homeruns, and 33 RBI's. In 2012, Court spent the entire season in South Bend where he contributed 101 hits in 102 games, while producing 24 doubles, 8 homeruns, and 53 RBI's to go along with his .264 batting average.
2013 saw Court have his best season statistically for the Diamondbacks organization where he appeared in their affiliates in South Bend (29 games), Visalia (39 games), and playing the final 59 games of the season for the Double-A Mobile BayBears. On the season, Ryan collected 134 hits, including 38 doubles and 11 homers, while producing 67 RBI's to go along with a .315 batting average. In 2014, Court split time between the Dbacks Visalia and Mobile affiliates.
With the re-signing of Court, the Explorers now have signed 3 key position players back from their 2015 record breaking season which saw the Explorers set a new American Association record with 75 wins in a season.
In other team news, the Sioux City Explorers have traded OF Rene Tosoni to Sugar Land (Atlantic League) in exchange for a player to be named later.
The 2016 home opener is set for Thursday, May 19th versus the Sioux Falls Canaries. Season ticket packages and flex ticket packages are on sale now – get in the game with the Sioux City Explorers, call 712-277-WINS (9467).
|
Back to index...