02/11/2016 9:58 AM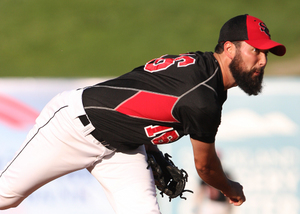 SIOUX CITY, IA – The Sioux City Explorers announced today that the club has re-signed RHP Ryan Zimmerman to a 2016 American Association contract. Zimmerman will return for his 2nd season with the X's and 4th season in professional baseball.
Zimmerman, 28, returns to the Explorers after having a phenomenal 2015 campaign on the mound in which he was near the top in almost every major pitching statistical category in the American Association, finishing with an impressive 14-2 record. Even more impressive was his miniscule 1.80 ERA which was lowest in the entire American Association in 2015. Zimmerman also held opponents to a .190 batting average against him which was also lowest in the league. His 14 wins were tied for 3rd best in the league, while tossing 3 complete games (tied for 5th) including 2 shutouts (tied for 2nd). Zimmerman logged a career high 120.1 innings in 2015, surrendering only 81 hits. He piled up 96 strikeouts, 9th most in the American Association, to only 37 walks.
After winning all 5 of his starts in the month of June, Zimmerman was named the American Association Rawlings Pitcher of the Month for June. During his undefeated month, the Fremont, CA resident tossed 38 innings, allowing only 7 earned runs on 24 hits, while racking up 36 strikeouts to just 10 walks. His best outing came on June 16th, where he threw a complete-game shutout against the Lincoln Saltdogs, allowing just 4 hits and no walks, while striking out 6. That fantastic outing earned him Pointstreak Pitcher of the Week honors for the week ending June 21.
"Bringing back the winner of the ERA title was a top priority for us", said X's field manager Steve Montgomery. "He pitched fantastic for us last year and hopefully he can duplicate his results in 2016. We look forward to him leading our pitching staff in the 2016 season."
The Arizona Diamondbacks drafted Zimmerman in the 30th round of the 2010 MLB June Amateur Draft out of Northwestern State University in Natchitoches, LA. He signed with the D'Backs but never appeared in a game due to injury. Zimmerman started his professional career in 2013 playing in the United Baseball League where he split time between the Alexandria Aces and the Edinburg Roadrunners. The right hander spent the entire 2014 season with the Rockford Aviators in the Frontier League, where he compiled a 9-6 record with a 3.20 ERA.
With the re-signing of Zimmerman, the Explorers now have 5 players from their record breaking 2015 team signed to 2016 contracts.
The 2016 home opener is only 99 days away. Group reservations are now being accepted for all 50 home games, including the 2016 home opener on Thursday, May 19th versus the Sioux Falls Canaries. Get in the game with the X's by calling 712-277-WINS (9467).
712-277-WINS (9467) * WWW.XSBASEBALL.COM
|
Back to index...