03/03/2016 4:11 PM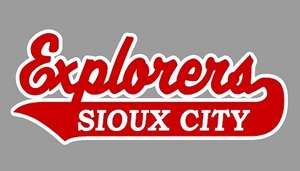 SIOUX CITY, IA – The Sioux City Explorers announced today that the club has signed Brendan Slattery and Taylor Mark, a pair of rookie catchers, to 2016 American Association contracts. The 2016 season will be Slattery's 2nd season of professional baseball and Mark's 1st season.
Slattery signed late last season with the X's on August 3rd and appeared in 19 games, collecting 14 hits and a .269 batting average. The Brookfield, Connecticut native made his first start with the X's on August 6th vs Fargo and had a productive night going 2-3 including the go ahead RBI double in the 7th inning, which proved to be the winning run.
Prior to joining the X's, Slattery started the 2015 season with the Southern Illinois Miners in the Frontier League. Slattery collected 17 hits for the Miners in 24 games with 7 RBIs. Before starting his professional career, Slattery played four seasons at Manhattan College and as a senior for the Jaspers in 2014 he hit .324 with 25 RBIs in 42 games. Slattery was named to the 2014 MAAC All-Tournament Team after going 5-11 with 3 RBIs and 2 runs scored during the MAAC tournament.
Mark was drafted by the Milwaukee Brewers in the 35th round of the 2010 MLB June Amateur Draft from Pinnacle High School in Phoenix, Arizona. He played collegiately at the University of Arizona and South Mountain Community College. For the SMCC Cougars in 2013, Mark hit for an impressive .364 batting average, including 19 doubles, 5 triples, and a home run. He also added 32 RBIs and a .558 slugging percentage. For his efforts, Mark was named to the First Team All-ACCAC and Second Team ALL-Region in 2013 as a catcher.
With the signing of Slattery and Mark, the defending Central Division Champions now have 6 position players and 1 pitcher signed to 2016 contracts.
In other team news, OF Ryan Kalish, who signed with the Explorers on February 18th, has signed with the Chicago Cubs. The X's still own his reversionary rights should he be released by the Cubs.
The Explorers 2016 home opener is set for Thursday, May 19th versus the Sioux Falls Canaries. Get in the game with the Sioux City Explorers and reserve your 2016 season ticket packages, flex ticket packages or company group outing by calling 712-277-WINS (9467).
|
Back to index...