04/09/2012 12:50 PM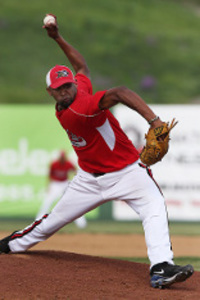 Sioux City, IA - For the past two seasons the Explorers have had a consistent reliable arm coming out of their bullpen. 2012 will be no different. Today the X's announced the re-signing of relief pitcher, 'Every day' Eddie de la Cruz. The 2012 season will mark Eddie's third season with the X's.
In 2011, de la Cruz appeared in nearly half the Explorers games, at 48. Serving in various roles out of the bullpen, the Dominican Republic native posted a 3.46 earned run average in 75.1 innings pitched. De la Cruz struck out 72 batters while only allowing 36 free passes and 29 earned runs. In his two years with the X's, the right handed submarine pitcher has compiled an 11-9 record, struck out 137 batters in 140.1 innings pitched over 101 appearances.
"I am pleased and excited to know we will have "Every day" Eddie back to anchor our bullpen, he is a workhorse and his durability is key to the success of our ballclub," states Field Manager, Stan Cliburn.
The 30-year-old was signed by the X's after the '09 season in a trade that sent Nick Singleton and Tyler Meigs to the Gary Southshore Railcats. In his two years with Gary (2008-2009), de la Cruz went 8-2 with a 2.70 and 3.06 ERA in a total 54 innings pitched. Before arriving in Gary, de la Cruz spent seven years in the Tampa Bay Rays system, playing in 2007 season with Vero Beach (A-) appearing in 45 games collecting a 3.98 ERA.
During his two years in an X's uniform, de la Cruz has put himself in the record books. He currently holds the first two spots in game appearances at 53 (2010) and 48 (2011) in a single season, and is tied for second in career appearances with 101. De la Cruz's many late inning appearances has placed him 5th in the X's books with 18 career saves and also ranks 4th with a career 3.14 earned run average.
The X's 2012 Home Opener will be Saturday, May 19th versus the Pheasants in a 7:05pm contest with Great Southern Bank Magnet Schedule Giveaway and Lantis Fireworks post-game fireworks. Reserve your company group outing now for the 2012 home opener or any game on the 2012 schedule by calling 712-277-WINS or stop by the Lewis & Clark Box Office located at 3400 Line Drive, Sioux City, IA 51106!
|
Back to index...