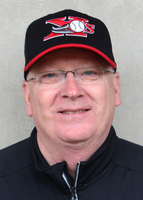 Athletic Trainer
Phone: 712-277-WINS (9467)
Bruce is serving his fourth season as the Head Athletic Trainer for the X's during the 2022 season and served 34 seasons as the director of sports medicine/head athletic trainer at the University of South Dakota before retiring in the summer of 2021. He served as the head trainer for the USD men's basketball team, while overseeing a staff of nine certified trainers.
Since 1984, Fischbach's services have been utilized at a wide variety of athletic events. He has worked as a special events athletic trainer at the College World Series, the NCAA Division II Indoor National Track Meet, the NCAA Division II Elite Eight, the Orange Bowl and the South Dakota High School Football
Championships.
He is currently the head trainer for the U23 Team USA wheelchair basketball team and
is a member of the Board of Directors for the National Wheelchair Basketball Association.
Fischbach was inducted into the South Dakota Athletic Trainers' Association's Hall of Fame in June of
2014. Fischbach served as president, vice president and secretary/treasurer for the SDATA and has been
on the Mid America Athletic Trainers' Association's board of directors. Over the years, he has continually advocated for the athletic training profession.
Prior to his arrival at USD, Fischbach was a trainer for the Kinston Eagles, formerly of the Carolina
League. While a student at the University of Nebraska, he was a student trainer for the Cornhuskers. He traveled with the football and baseball programs.
Fischbach received his bachelor of art degree in 1984 from Nebraska and in 1991 he obtained his master of sport science degree from the United States Sports Academy.
He and his wife, Kelly, have three children; Ryun, Kylie and Dylan.