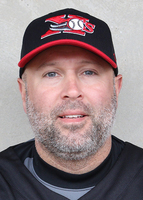 Matt Passerelle
Hitting Coach
Phone:
712-277-WINS (9467)
Matt Passerelle will begin his fourth season as hitting coach for the Sioux City Explorers, after helping the X's claim back-to-back Central Division Championships in his first two seasons. Under the guidance of Passerelle, the X's finished the 2017 season in the top 3 in the league in team batting average.
Passerelle attended the highly touted NCAA Division I-MAAC School Iona College (New Rochelle, New York). Passerelle played collegiately with the Gaels for four years from 1996-2000. After the 2000 college baseball season he decided to play professionally with the Johnstown Johnnies of the Frontier League for the next three seasons (2000-02).
Coaching was always Passerelle's niche. While playing college ball with Iona, he also was a part time instructor for Frozen Ropes, a baseball training facility in White Plains, NY. After graduating from Iona College, he was hired as assistant coach for the Gaels squad for the 2001-02 seasons. Once his playing career was over, he then became the general manager and head instructor of the Frozen Ropes facility in White Plains, NY. Matt decided to step away from this position after three years in 2005, for the exciting endeavor of opening his own Frozen Ropes training facility in Tinton Falls, NJ, which he still owns and operates today. In 2006 and 2007 he also coached in the Atlantic Baseball Confederation Collegiate League (collegiate summer baseball league).
With Passerelle's experience as a former ball-player, coach and many years as an instructor, his resume stood out to major league ball-clubs. He was hired as an Associate Scout with the Baltimore Orioles in 2010 holding that position until 2012; He then obtained a position with the Kansas City Royals organization as an associate scout (2013-present) and coach for the Royals scout team (2013-2014).
Matt makes his home in Oakhurst, NJ.