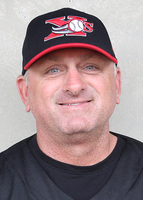 Derek Wolfe
Hitting Coach
Derek Wolfe joins the Sioux City Explorers for his first season in 2019 as the assistant hitting coach. Wolfe also currently operates his own business, Wolfe's PATH, a mentor and training program for athletes. And is also currently the assistant coach at Seminole State.
Wolfe was previously an assistant baseball coach for seven seasons at the University of Central Florida, the head baseball coach for four seasons at Hiwassee College in Madisonville, Tenn., the head baseball coach for the Winter Park Angels and Diamond Dawgs of the Florida Collegiate Summer League and the middle school dean of students/head varsity baseball coach for five seasons at Trinity Preparatory School in Winter Park, Florida. Following that he was the head coach at Seminole High School for four years.
Wolfe had 18 players sign professional MLB contracts as an assistant coach at UCF. As an assistant at UCF, Wolfe served in various coaching positions including, assistant recruiting coordinator, hitting coach, third base coach and outfielders coach.
Wolfe was also named the FCSL Coach of the Year in 2005 and guided the Winter Park Angels to a FCSL Championship in 2014. At Trinity Prep, Wolfe won two District Championships, named the Coach of the Year by his peers in 2012, had 22 players commit to Division I programs and one drafted by an MLB team, and co-authored the book Coaching Revolution - A Philosophy and Game Plan.
Wolfe and his fiancé Jennifer reside in Florida with their kids Jack, Hayden, Danny and Julie